Enter the Light Up The Lakeshore Business Idea Competition
This is a business idea contest. Therefore, you are not eligible to enter if you have created sales with your idea/invention or received funding for your idea/invention. It is OK if you have spent money on developing the idea/invention or self-funded the development of your idea/invention. You just cannot have made any money on it yet. Keep in mind that by a "product" we mean either a good or a service.
We are especially interested in entries from youth and young adults in high school, and college (going into grade 9 through last year of graduate school). In fact, we will have special prizes just for students!
Below is an example of a 90-second business idea pitch video. Keep in mind that the goal is for you to create your own "pitch" (explanation) in 90 seconds, and if you are chosen as a finalist you will give your pitch live on August 2. You will want to practice. We will have coaching sessions for you to attend as well.
Getting Started
To begin your video pitch, we advise you to write/type out an outline based on the below scorecard that the judges will use: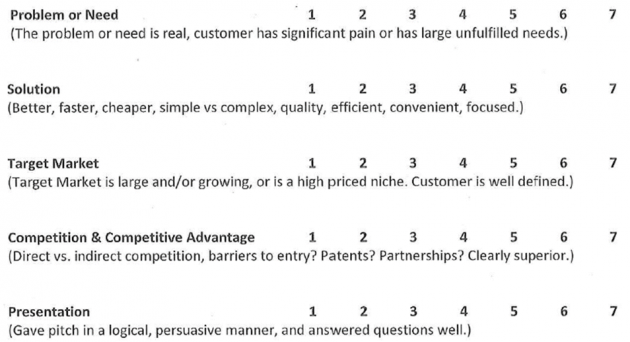 We'd like to acknowledge and thank the Alta Resources Center for Entrepreneurship and Innovation at UW-Oshkosh for developing this scorecard. They also recommend the following to open your pitch. You will see that the example video starts out with a story. Telling your story quickly so that the audience understands how your product helps solve a real problem: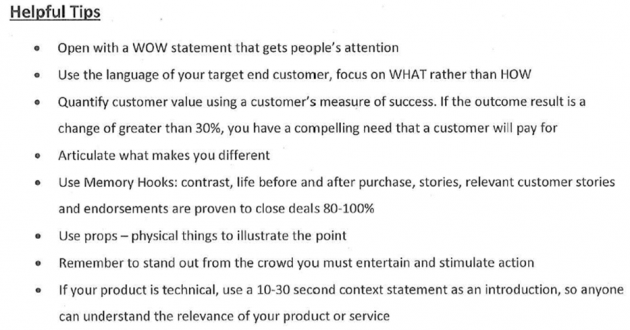 Three Steps to Enter
STEP ONE
You will need to create a video of you pitching your business idea. Use the video on your cell phone, and do not do dozens of takes. Watch the video to make sure you can hear it. That is good enough! We are not concerned with video quality. You will want to save and back-up your video (on the cloud is best) in case we have questions about your entry.
STEP TWO
Next, upload it on YouTube. If you have never done this before, you can do an internet search for your type of phone (Android, Apple, etc.) or even your model (Moto X4, iPhone 8, etc.) and follow those instructions. You could also ask someone that you know to help you or ask a librarian at the Lester Public Library help desk.
As an entrepreneur, you will need people to support you. Might as well start now! Make sure the video on YouTube is set for public (not private).
STEP THREE
Lastly, email the YouTube link to Director@TwoRiversMainStreet.com by 11:59pm, Sunday, July 15, 2018.
We will review all entries within 5 business days to make sure the link works, but please check it yourself first on a mobile device as well as on a laptop or desktop. We will make two attempts to contact you at the email address you provided in your submission if we have problems with your link. These attempts will contain a strict resubmission deadline.