Art in Central Park 2019
We would like to say thank you to all of the artists who participated in Art in Central Park for 2019. The efforts of these people have truly made downtown Two Rivers a more beautiful place to visit. Learn more about the artists below. Some of the original paintings are available for sale, and the banners will be for sale at the end of the season when they are taken down. Please contact the Two Rivers Main Street office for further details.
Thank you to our sponsor, Basil Ishkabibble's whose support and hard work made this possible.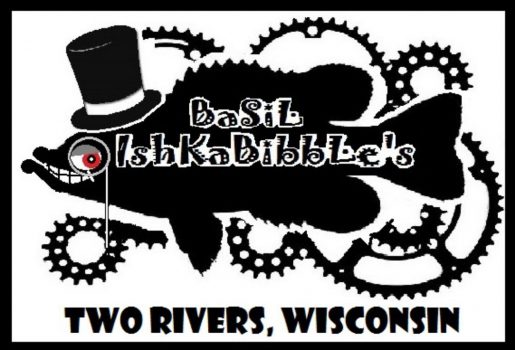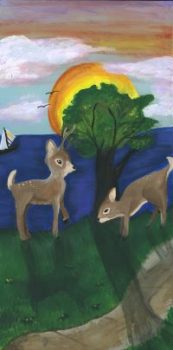 Deer at the Lake
Artist: Suzanna Arnoldussen
Suzanna is a sixth grade student. She likes a lot of different types of art like making things out of clay and drawing. She has never entered an art contest before.
Sponsor: Edward Jones
Sailor's Delight
Artist: Sandra Berry
I am what you might call a late bloomer. I started painting in June of 2017 at the age of 69. I am self taught through online tutorials. I like to create. It is my passion. I have searched for that missing part of my soul and I finally found it in my painting. My art is available for sale at Crafty Cravings Cafe, 1606 Washington Street, Two Rivers.
Sponsor: Schroeder's Department Store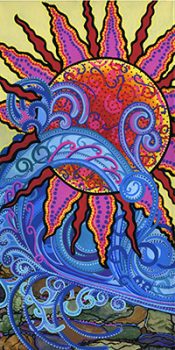 Sun and Surf
Artist: Brenda Burtard
I am a freelance artist who has owned Brenda Lynn Burtard Studios on the Lakeshore, in Door County and Fox Valley, WI., and in Minneapolis, MN. I attended UW-Fox Valley and Fox Valley Technical College. I use mixed medium to create art and sculpture that is an expression of the human experience, and reflects the ongoing theme of "life". My Two Rivers studio is open by appointment. Please call 920.374.9386 to schedule.
Sponsor: Fatzo's Sub and Pizza Shop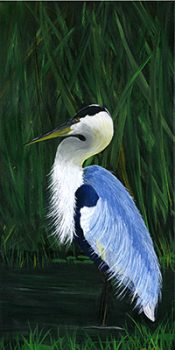 Great Blue Heron
Artist: Roger Booth
I have been selling my art work for the past five years. I spent two years at UW-Stout in their art program. I currently paint acrylic, oil, frost glass, paint murals and do screw art. I paint on a variety of surfaces. I was the 2018 Viewer's Choice Award winner at the Rahr-West Art Museum Manitowoc County Art Show. I currently sell at the Sheboygan Farmer's Market. My previous work can be seen on my Facebook page Booth Art Design.
Sponsor: Classic Auto Restoration Service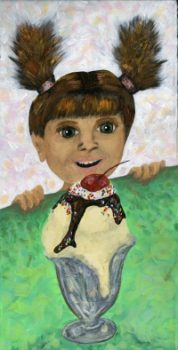 Summer…Happy…Sunshine
Artist: Jennifer Dittbenner
I was born and raised minutes from Two Rivers and returned to the city raise my four children. I am now pursuing a Master's degree in Sustainability. My capstone is on incorporating sustainability concepts within art education.
Sponsor: White Cap Insurance Agency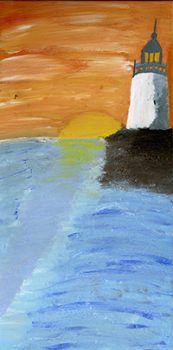 Sun and Lighthouse
Artist: Sanoa Dittbenner
I am thirteen and in seventh grade. I go to St. John's Lutheran School in Two Rivers. I like to read, do art, camping (which is one of the inspirations of my art), and spending time with the people that I love.
Sponsor: Shoreline Credit Union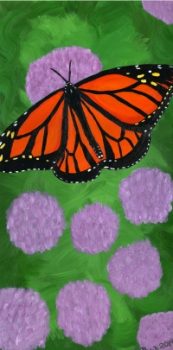 Migration Pit Stop
Artist: Cathy Hansen
I am not an artist – I'm a Spanish teacher. I enjoy painting and photography. I have lived in Two Rivers for nineteen years. My husband and I own SeedsNBeans Nature Store in downtown Two Rivers.
Sponsor: GJ's Salon and Spa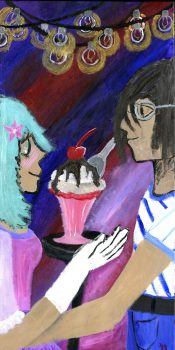 Anime Sundae Scene
Artist: Elizabeth Hansen
I have lived in Two Rivers my whole life. I am a sophomore at Reedsville High school, where I have taken several art classes. I enjoy painting and ceramics.
Sponsor: NSight TelServices – Cellcom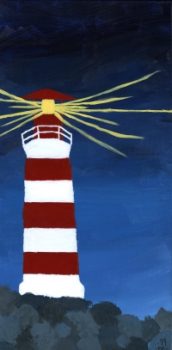 Lighthouse at Night
Artist: Emilia Hansen
I am from Two Rivers and I am a freshman at Manitowoc Lutheran High School. I have had only basic grade school and middle school art classes, but I have always loved painting, drawing and photography.
Sponsor: Casa Mexico Restaurant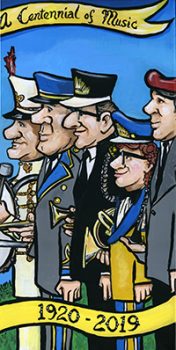 A Century of Music
Artist: Dean Konop
Dean Konop, born and raised in Two Rivers, Wisconsin, is a local artist known for his artistic caricature paintings. Dean graduated from Silver Lake College in 1997 and started his caricature business that same year. He completed a Century of Music with the intent to promote the 100th Anniversary of the Two Rivers Community Band which was formerly the Two Rivers Municipal Band. Pictured are band members from 5 different eras of the band.
Sponsor: West and Dunn Attorneys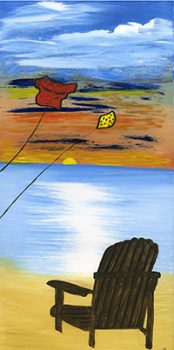 Relaxing on the Beach
Artist: Karen Konop
I have been painting acrylics for two years, watching Bob Ross on television and learning from my neighbor as to colors, texture and designs on canvas.  I have my paintings at my address, 900 21st Street in Two Rivers. My husband does all my frames, staining in a variety of colors.
Sponsor: Edward Jones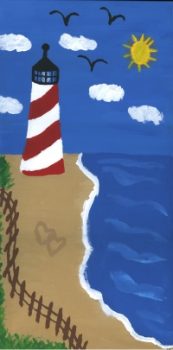 Lighthouse and the Sun
Artist: Jessica Leonhard
I grew up in Door County, WI and have liked doing arts and crafts since I was young. I mostly do painting for fun and I like to make home made art gifts for friends and family.
Sponsor: P.A. Wargin Agency – American Family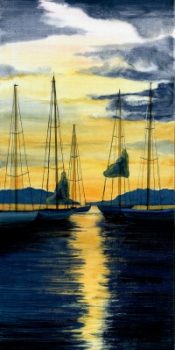 Reflections
Artist: Chris Pokorski
I am a native of Manitowoc and a self-taught artist of thirty years. I paint sharp focus, realistic outdoor scenes in acrylic paint. My work may be seen at Whispering Orchards in Cleveland, along with murals there.
Sponsor: Woodland Dunes Nature Center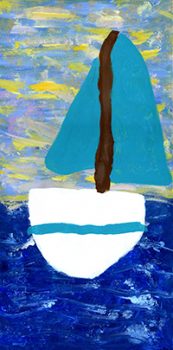 Sailing in Two Rivers
Artist: Matthew Schmidt
Matthew is four and a half years old. He loves to paint! Some of his favorite paintings are of animals (his pets) and trains. Several of his paintings are displayed in our home. Matthew chose finger painting, brushes, bubble wrap, cotton balls and yarn to make his sailboat painting. He chose a sailbaot because it reminded him of the "ocean in Two Rivers."
Sponsor: Fatzo's Sub and Pizza Shop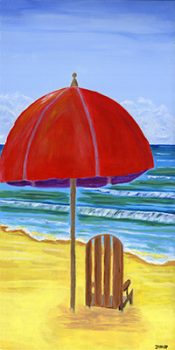 Sun, Sand and Surf
Artist: Julie Steltz
I grew up in Two Rivers, WI. I love color, and I thought painting with acrylics was a beautiful way to see the world.
Sponsor: Rustic Harbor Boutique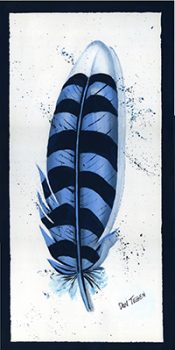 Blue Feather
Artist: Dan Tegen
I have been painting on and off for the past 45 years. I started out with oil and acrylic and have then taken up watercolor painting since retiring eight years ago. I am mostly self taught but I am under the tutelage of watercolor artist Jim Dolan.
Sponsor: Nextera Energy – Point Beach Nuclear Plant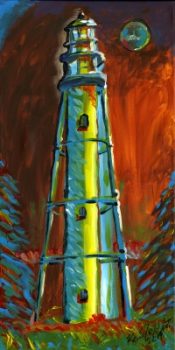 Lighthouse
Artist: Kevin Willert
I grew up in Two Rivers, then went to College in Madison, WI. I moved back to the Manitowoc area in the early 90's. I have been creating artwork in some way, shape of form ever since.
Sponsor: Verve, A Credit Union
Dragon
Artist: Sophia Winget
I am an eighth grade student at Wilson Jr. High in Manitowoc. I am interested in a career in animation. I spend most of my time drawing, but I am also a swimmer.
Sponsor: Shoreline Credit Union
Coolest on the Lake
Artist: Amy Zander
as a multimedia artist, I love to paint, hand build with clay, recycle everyday items into art , and teach. I have been creating for as long as I can remember! I currently wholesale my work to gift shops and galleries across the United States. I am the artist behind Art Night, a popular monthly art class in Two Rivers and coming to Green Bay. My website is AmyZander.com. You can find me on Facebook and Instagram at Amy Zander Studio. Look for "go Art Night" on Facebook, too.
Sponsor: Travis Stevens – Remax Port Cities Realtors