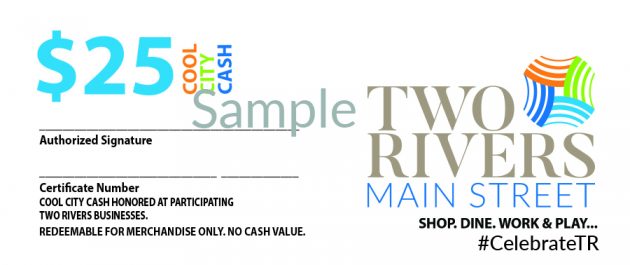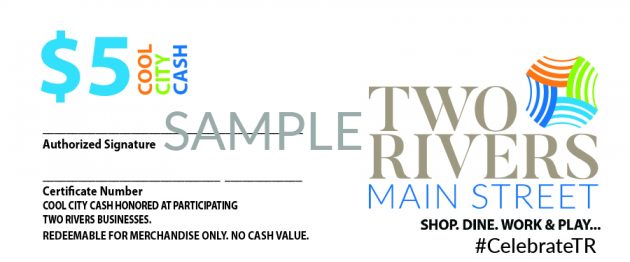 Help us keep your money working here!
Cool City Cash is now available from Two Rivers Main Street. Available in $5 and $25 certificates, Cool City Cash can be used at more than 25 Two Rivers businesses. It makes a great gift, for a friend, relative, or as an employee bonus!
Cool City Cash is just like using cash. Simply bring it to any participating business and use it to make your purchases. It's an easy way to support local businesses in Two Rivers, which keeps the money you spend working in your community.
Participating businesses:
Casa Mexico Restaurant
Crafty Cravings & Cafe
Fatzo's Sub and Pizza Shop – Two Rivers
Tietz's Piggly Wiggly
GJ's Salon and Spa
Gulseth Electric
Homestead Outlet
Intertwined Yarn Shop
Klein's Hardware Hank
Kurtz's Pub and Deli
Level Up Nutrition
Medicine Shoppe
Phil & Michelle's Pub
Quilt Shop of Two Rivers
Read Apple at Schroeder's
Red Bank Coffeehouse
Rustic Harbor Boutique
Schroeder's Department Store
SeedsNBeans
Sepia Chapel
Waverly Inn Pub and Pizzeria