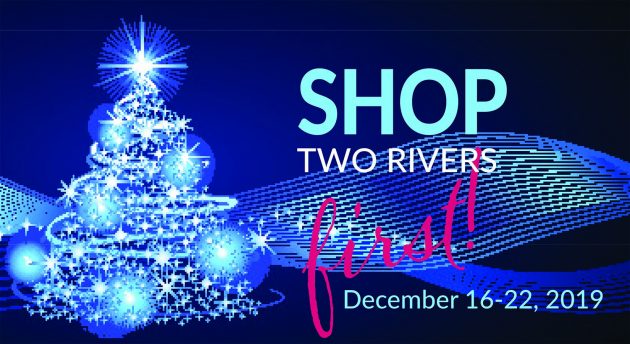 Now through Sunday, December 22nd is Shop Two Rivers First Week! IF you Shop Two Rivers First this week you have a chance to win $100, $150 or $250 in Cool City Cash, sponsored by Shoreline Hometown Credit Union. Just pick up a passport at a participating business (see list below) and start shopping. Once you've made three qualifying purchases, complete the entry info on the passport and leave it at one of the businesses. Passports will be collected on Monday, December 23rd and winners will be drawn that afternoon. Make sure you save your receipts to verify your purchases in case your name is drawn. Thank you for supporting the great local businesses in downtown Two Rivers!
Here is the list:
• Basil Ishkabibble's Art Gallery
• Brush Strokes With More
• Cellcom
• City Central Bar and Grill
• Cleveland Bodyworks
• Cleveland Cycleworks
• Crafty Cravings & Café
• Dalebroux Jewelry
• Fatzo's Sub & Pizza Shop
• The Game Dealer
• GJ's Salon N Spa
• Hazel's Pizza Company
• Homestead Outlet
• Intertwined Yarn Shop
• Klein Hardware
• Kurtz's Pub & Deli
• Level Up Nutrition
• The Medicine Shoppe
• Quilt Shop of Two Rivers
• Read Apple Toy Shoppe
• Red Bank Coffeehouse
• Renee's Chocolates
• Rustic Harbor Boutique
• Schroeder's Department Store
• Seeds N Beans
• Two Rivers Clothing Company
• Unique Flying Objects
• Waverly Inn
Have fun shopping!